We're partnering with The CX Company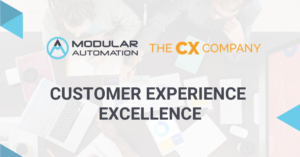 We're delighted to announce our partnership with The CX Company to enable us to deliver a best-in-class experience for our customers.
We know that true collaboration always delivers – the customer and our team working shoulder-to-shoulder exploring the possibilities, overcoming the challenges and delivering brilliant automation solutions.
We're looking forward to getting started on our Customer Experience (CX) Excellence journey!
Share
Let's Talk
Tell us about your manufacturing challenge, and one of our senior engineers will be in touch to explore how we can help.
Contact Us