Mixed Reality Technology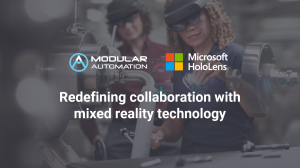 Modular Automation is a global leader in the design and build of automation solutions for blue-chip MedTech manufacturers. The team is renowned for the stellar build and quality of their machines which integrate the latest and most advanced technologies.
Before Covid, customers often travelled to Modular's HQ in Shannon, Co. Clare to view progress and collaborate with their engineering team. However, Covid travel restrictions made those visits and face to face interactions more challenging, hindering the collaborative process between the Modular team and the customer. Modular's engineers set out to find a solution that would allow continued collaboration with their customers – that was when they introduced Microsoft's HoloLens 2 mixed reality headset.
Virtual, rather than physical journeys
With the help of the mixed reality headset, it enabled Modular's team of engineers to continue to collaborate safely with customers through phases of the machine design and build. The technology was implemented in a matter of days because of its simple integration with Microsoft's package of services. The quick response is a true testament to the Modular team and the customer's willingness to adopt practical solutions.
Virtual Electrical Build Verification (EBV) using real-time video & audio
For a recent MedTech project Modulars engineers were able to perform their first virtual Electrical Build Verification (EBV), something that they had never done before. Using the HoloLens headset, the customer was able to see their equipment and the outcome of all the tests being performed through real-time video and audio. As well as being able to communicate directly, supporting engineers could offer each other guidance where needed by overlaying holographic instructional annotations & images over physical objects in real-time, all while keeping the engineer's hands-free to work. The virtual EBV was successful and since the customer didn't need to travel, for Modular it meant keeping their commitment to deliver.
What's next? Bridging the gap between physical and digital
The Modular team are searching for ways to use it to complete more tasks every day. Modular is currently using the technology to communicate virtually with a MedTech customer based in Galway and its success has opened the door to a new way of working.
While its ability to deploy expertise anywhere in the world is a gamechanger, its ability to bridge the gap between the digital & physical world give way to endless opportunities. It will transform how we learn, make decisions, and interact with the physical world.