A Growth Journey to Excellence in Research, Development and Innovation
Modular Automation design and build innovative automation solutions for the world's leading medical device manufacturers including Johnson & Johnson, DePuy, Stryker, and Boston Scientific. They operate as a close, trusted automation partner helping their customers explore their automation opportunities.
Modular innovate on a day-to-day basis developing advanced automation solutions, small and large, using the latest cutting-edge technologies. They excel in the integration of the latest, enabling technologies such as collaborative robots, autonomous mobile robots (AMR's) and industry 4.0 applications. Supporting their customers as they transition to smart methods of manufacturing that drive productivity.
"Our innovative automation solutions help our customers be more productive and remain competitive, and, through the use of advanced technology, enable them to manufacture medical devices faster, safer and higher quality. Our R&D capability reduces risk for FDI companies engaging in bespoke automation." – Vivian Farrell, CEO.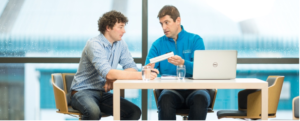 'Always Innovating' at Modular Automation
Senior Leadership in Modular recognise that Research, Development and Innovation (RD&I) are central growth pillars of the business and promote a culture & environment where innovation is fostered and encouraged. To reflect this commitment, Modular has defined one of its five central strategic pillars as "Always Innovating". Furthermore, in 2020 they partnered with Prof. Gerry Byrne & Dave Byrne of ReaDI-Watch and GB Innovation, to drive forward Innovation and R&D in the company.
Establishing RD&I Excellence
Modular Automation's journey to RD&I excellence commenced with the formation of an 'RD&I Board' comprised of Prof. Gerry Byrne, External Chairman; Vivian Farrell, CEO; Rob Glynn, CFO and Shane Cooke, Engineering Director. Underpinned by strong governance and robust tools & processes, the board has helped to take Modular's RD&I activity to the next level.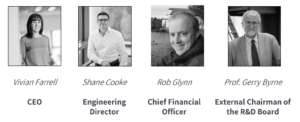 Since its inception, the board has implemented multiple initiatives to grow the capability of RD&I across different levels of the business. This includes the introduction of training programmes with Senior Management and the Modular Team; identifying areas of innovation strengthening through Enterprise Irelands 'Innovation Scorecard'; digitisation of the RD&I management process and building connections with the Irish RD&I ecosystem with organisations such as IDEAM Digital Manufacturing Cluster, Confirm SFI Research Centre for Smart Manufacturing and many more.
Technological Advancement
Reflective of international best practice, R&D at Modular Automation seeks to achieve technological advancement of core technologies through the 'Technology Readiness Level' (TRL) scale. This advancement is undertaken through Proof of Principle's, Custom Automation Projects, and internal collaborative R&D projects.
"Core Technologies are developed, through R&D, for next generation automation of integrated advanced manufacturing technologies and systems. The advances being made move the Core Technologies along the TRL scale and are, in nature, applied research and experimental development oriented." – Shane Cooke, Engineering Director
Distinguished from commercial projects, technologies are advanced through a systematic R&D process, designed by ReaDI-Watch in partnership with Modular. This R&D process brings a discipline and strong governance principles to the management of all R&D projects. Managing R&D in this way gives Modular a competitive edge, through:
• Shared learnings across a complex technology portfolio.
• Alignment of investigative technical work to strategic business objectives.
• Development of a world-class IP portfolio, which Modular shares with its customers in the MedTech sector.
• Staff buy-in, visibility and sponsorship from Senior Management.
• Robustness for R&D Grant and R&D Tax reporting & claim purposes.
Innovation
While Technological Advancement underpins the R&D at Modular Automation, all staff and management in the company are innovators. The RD&I Board and associated champions in the business seek to continually promote an inclusive and collaborative innovation approach across all parts of the business. This innovative culture gives Modular Automation its competitive leading edge.
Conclusion
As a key stakeholder in the Irish MedTech industry which is going from strength to strength, Modular Automation's team continue to implement key actions and initiatives as it continues on its journey to world-class RD&I.
Share
Let's Talk
Tell us about your manufacturing challenge, and one of our senior engineers will be in touch to explore how we can help.
Contact Us