A big kudos to the Modular Team…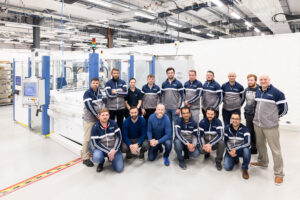 A big kudos to the Modular Team for recently finishing Factory Acceptance Testing on a Custom Automation machine for our MedTech customer located in the west of Ireland.
This machine has many exciting features including;
◼ Preloading and automated queuing of multiple product batches to ensure 1hr of autonomous production
◼ Intelligent vision-guided singulation
◼ Picking and orientation of product in 4 axis
◼ High-speed vision guided picking and placing of packing components using vibration plates
◼ Dynamic routing to 6 testing stations before automated handoff to a downstream packaging machine.
The machine has been shipped to the customer site and is being installed and commissioned by our expert teams ahead of Site Acceptance Testing in the coming weeks.
Share
Let's Talk
Tell us about your manufacturing challenge, and one of our senior engineers will be in touch to explore how we can help.
Contact Us