We've launched flexible working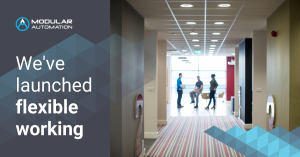 We're always looking for new ways to improve our benefits & working environment.
One of our strategic pillars is to 'Build the best team' and as part of this initiative, we've launched a new Flexible Working policy for everyone at Modular.
This supports our commitment to giving
everyone in Modular a healthy work-life balance.
Share
Let's Talk
Tell us about your manufacturing challenge, and one of our senior engineers will be in touch to explore how we can help.
Contact Us