We've established a R&D Board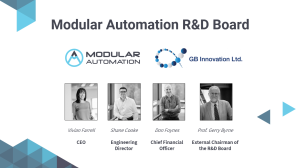 Research & Development is an essential part of what we do, assessing risks and exploring & testing the latest technologies to drive innovative solutions for MedTech manufacturers.
We've established a R&D Board as part of our strategic plan to advance our R&D and innovation capability, chaired by Professor Gerry Byrne. Gerry is internationally recognised for his contributions to R&D and has over 30 years' experience in the industry. He is the Managing Director of GB Innovation Ltd. and the Chief Scientific Officer of ReaDI-Watch.
Underpinned by strong governance and robust tools & processes, the board intends on taking Modular's R&D activity to the next level.
Share
Let's Talk
Tell us about your manufacturing challenge, and one of our senior engineers will be in touch to explore how we can help.
Contact Us