Introducing our new Software Engineering Manager, Ed Clinton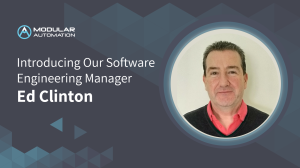 We are delighted to welcome Ed Clinton to the Modular Team as the Software Engineering Manager.
Ed has over 30 years experience across multiple industries in HW & SW Engineering and R&D management roles. He brings a huge breadth of knowledge and skills in building and leading Software teams to be best in class in terms of delivery, quality, innovation and team satisfaction/evolution. He is passionate about creating an open two-way communication environment and doing things right first time while enabling all his team to achieve the best in their careers.
Ed's primary focus in the short term will be to drive Modular's Software Delivery Excellence strategy to significantly enhance and accelerate SW product delivery and capability, while developing the SW teams structure and processes to meet future business needs and industry direction.
Welcome to the team Ed, wishing you the best in your new role!
Share
Let's Talk
Tell us about your manufacturing challenge, and one of our senior engineers will be in touch to explore how we can help.
Contact Us