Modular Automation Exhibiting at ATX West 2023, 7-9th Feb 2023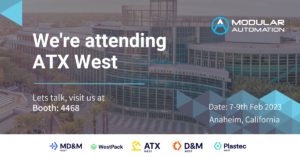 Modular Automation is delighted to share that we are attending ATX West which is taking place from 7th – 9th February, 2023 at the Anaheim Convention Center, California.
ATX West is part of Informa Markets Engineering (IME) West, the US's largest annual advanced manufacturing event.
Chat with our specialist team at booth #4468 to learn more about how we help leading MedTech companies leverage innovative automation solutions to improve output, quality and capability.
You'll also be able to learn more about our latest portfolio offering Equipment Contract Manufacturing where we replicate OEM equipment in volume to its exact specifications.
If you would like to arrange a meeting with a member of our team in advance of the event, please email info@modular-global.com
Event Details
Modular Automation Booth Number: 4468
Where: Anaheim Convention Centre, Anaheim, CA
When: 7th-9th February 2023, 10am – 5pm
Find out more & register at https://www.imengineeringwest.com/en/home.html
About Modular Automation
Modular Automation is an Irish company who have devoted the past 35 years to delivering innovative custom automation, build to print and tooling solutions for the world's most advanced MedTech manufacturers. Leaning on decades of experience, they are committed to always, always deliver the right solution. Modular specialise in designing and building bespoke, reliable, complete solutions which automate highly complex production processes. Their 150 accomplished and determined engineers collaborate closely with their clients, supporting them on the automation journey as they transition to smart methods of manufacturing that drive productivity and manufacturing efficiencies.
Modular has been awarded the Best Managed Company accolade by Deloitte 9 years in a row, and is a member of Shannon Chamber and the American Chamber of Commerce Ireland. For more information, visit www.modular-global.com
About Informa Markets Engineering
Informa Markets' Engineering portfolio is the leading B2B event producer, publisher, and digital media business for the world's $3-trillion advanced, technology-based manufacturing industry. Our print and electronic products deliver trusted information to the engineering market and leverage our proprietary 1.3-million-name database to connect suppliers with buyers and purchase influencers. We produce more than 50 events and conferences in a dozen countries, connecting manufacturing professionals from around the globe. The Engineering portfolio is organized by Informa, the world's leading exhibitions organizer that brings a diverse range of specialist markets to life, unlocking opportunities and helping them to thrive 365 days of the year. For more information, please visit www.informamarkets.com.
Share
Let's Talk
Tell us about your manufacturing challenge, and one of our senior engineers will be in touch to explore how we can help.
Contact Us