We're Embracing Technology To Drive Collaboration During Covid-19

Since the beginning of the global COVID pandemic, the Modular Team have adopted new ways of working together to deliver the best automation solutions for the highly regulated MedTech industry. This is especially the case for Modular's Mechanical Design department who work in close partnership with customers to deliver advanced engineering solutions. As a result of COVID-19, the department is working remotely and have had to adjust the way in which they communicate, collaborate and share new ideas. The diverse team of 26 Design Engineers includes graduates and experienced engineers, some of whom have over 20 years' experience. Situated in Modular Automation's Innovation Centre, the team generates world-class designs, combining established engineering know-how and new technologies.
Before the crisis, each Design team had its own pod giving a discrete home to each project's design and engineering team. Collaboration is a critical part of the group since they work closely with each customer to gain a deep understanding of their process and unique needs, developing an intimate knowledge of their product, materials, processes and application. While the current situation means that face-to-face meetings are not an option, the group have adopted the Microsoft Teams platform to communicate virtually.
"For our Mechanical Design department innovation is so important. The fact that we can continue to be creative and collaborate is great. Technology has enabled us to thrive and feel connected like never before to develop best-in-class concepts".
Microsoft Teams has enabled the Mechanical Design department to communicate and share ideas in a way they never did before. While face-to-face interactions are important to the team, Microsoft Teams is an asset to the group in terms of creating, collaborating and sharing. They use tools such as Whiteboard and Planner to create and share ideas, and to plan their work.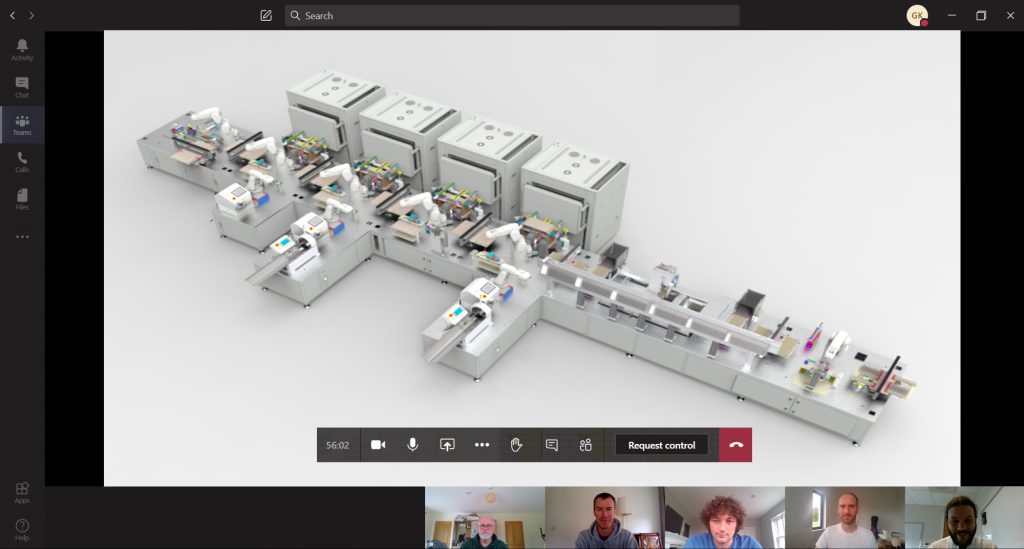 The platform was introduced to Modular in 2018 and piloted across several departments to ensure it was a tool that would enable collaboration and connectivity between groups in the business. The initial integration of the platform to the business was successful and allowed a seamless transition to Microsoft Teams at the beginning of the pandemic. Having the system in place from day one of working from home meant that daily meetings continued as normal.
Since the beginning of the COVID-19 crisis, Microsoft Teams has been fully rolled out in Modular offering a frictionless way for the mechanical design team to connect with others in the business, as well as with customers and vendors. Microsoft Teams is enabling the mechanical design group to continue their work and develop best-in-class solutions.
Share
Let's Talk
Tell us about your manufacturing challenge, and one of our senior engineers will be in touch to explore how we can help.
Contact Us